Engineering Approach
Jasper Tank has been manufacturing truck and trailer-mounted transportation tanks since 1947 and prides itself on high quality complete customization. Each tank is manufactured to our customer's specific needs.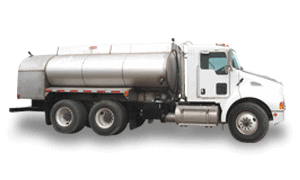 The design, manufacturing and finishing is done all under one roof at the two acre facility, ensuring that quality control is closely monitored throughout every step.
The manufacturing process begins by finalizing the option choices available to the customer. No detail is overlooked: every option from plumbing to paint is finalized. The order is then written up and sent to the engineering department.
Each tank is accompanied by engineered drawings that are approved by Jasper Tank's own Certified Engineer and the raw materials are ordered. Supplying the raw materials for a specific tank ensures that the tank is produced with the least amount of weld seams, decreasing labour costs and increasing strength and durability.
The tank enters production in the roll department where the tank is pre-rolled, reducing stress on the material during the welding process. The tank is then mounted on its frame and all options installed. Jasper Tank's certified engineer approves the production process.
Next, the vehicle is prepared for painting at our state-of-the-art steel shot blast facility. The tank is dismantled and each piece painted twice, reducing the risk of rust and increasing tank life. The tank is then transferred to Final department where the tank is reassembled and all finishing touches are applied.
Once your tank has passed our stringent quality control inspection, we proudly call you to pick up your rig.